One molecule does not tell the whole story...
Antibody arrays are fast, simple, cost effective methods for performing multiplex proteomic analysis on a complex biological sample.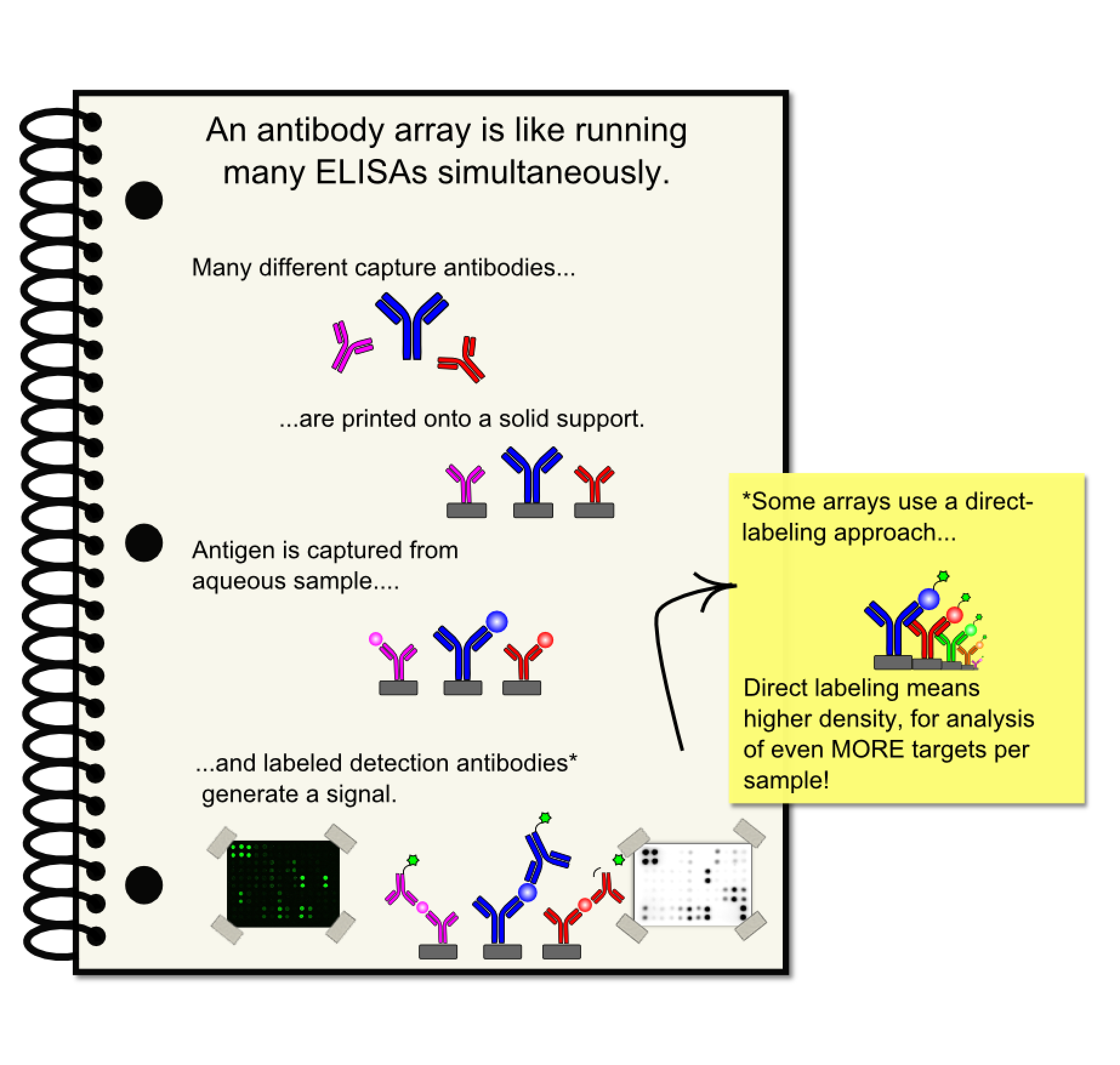 Download the full antibody array infographic!
For more than a generation, advanced genomic and transcriptomic tools have permitted simultaneous rapid, high-throughput analysis of many different individual targets. However, until fairly recently the ability to analyze the proteome in a similar fashion has been a major bottleneck in generating a comprehensive analysis of biological function and response.
By providing simple, quick, and robust method for multiplexed proteomic analysis, the Raybiotech antibody array brings the speed and efficiency of genomic and transcriptomic research to the realm of the proteome.
Using an antibody array, researchers can simultaneously profile up to 1000 different protein targets in a complex biological sample. Antibody arrays permit researchers to track global changes in expression at the proteomic level. For example, using an antibody array, a researcher may simultaneously analyze hundreds of different biomarkers that play a role in angiogenesis, inflammation, cytokine signaling, obesity, or other well characterized research fields.
Like an ELISA, antibody arrays:
Consist of capture antibodies affixed to a support matrix.
Come in a pre-generated kit with all of the reagents needed to complete the assay.
Confirm the presence and concentration of specific targets in a complex biological sample.
Produce quantitative, or semi-quantitative data.
Are formatted for assay of many samples simultaneously.
UNLIKE an ELISA, an antibody array:
Is capable of measuring up to 1000 targets simultaneously to generate a comprehensive detailed proteomic analysis.
Can give quantitative results from sample volumes as low as .25µL per analyte.
Can assay all necessary sample and standard replicates in a single aliquot.
Produces quantitative semi-quantitative data.
Can be read on a standard gel-doc imager or compatible laser slide scanner.
What makes an array superior to other proteomics methods?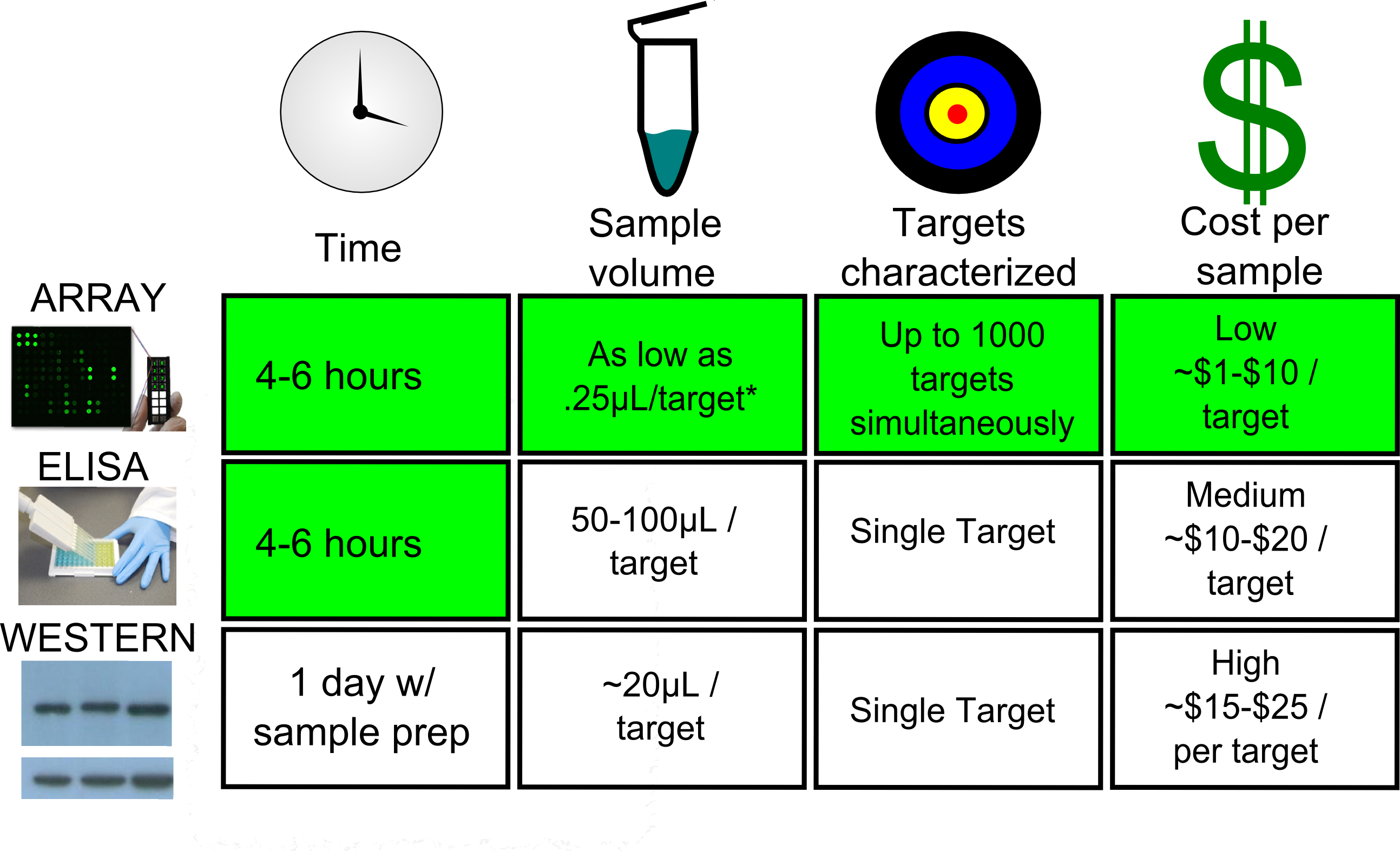 Planar antibody arrays come in different formats.
| Membrane Based Arrays | Glass Slide Based Arrays |
| --- | --- |
| Array support is a nitrocellulose membrane | Array support is a modified microscope slide |
| Analyzed via a standard gel-doc imaging system. | Analyzed via a compatible laser slide scanner.* |
*Note:
Compatible slide scanners can be found in most proteomics and genomics core facilities at universities across the globe.
If you don't have access to a laser slide scanner, we can offer a free slide-scanning service for any Raybiotech array purchased through antibodies-online!
Pick the right tool for the right job:
Finding an array that works for you
The flexibility of the planar antibody array allows it to be adapted to a variety of different situations. Whether you need fully quantitative analysis, want to analyze hundreds of targets simultaneously, or need to make the most of a very limited sample volume, antibodies-online has the right array to help you accomplish your objective.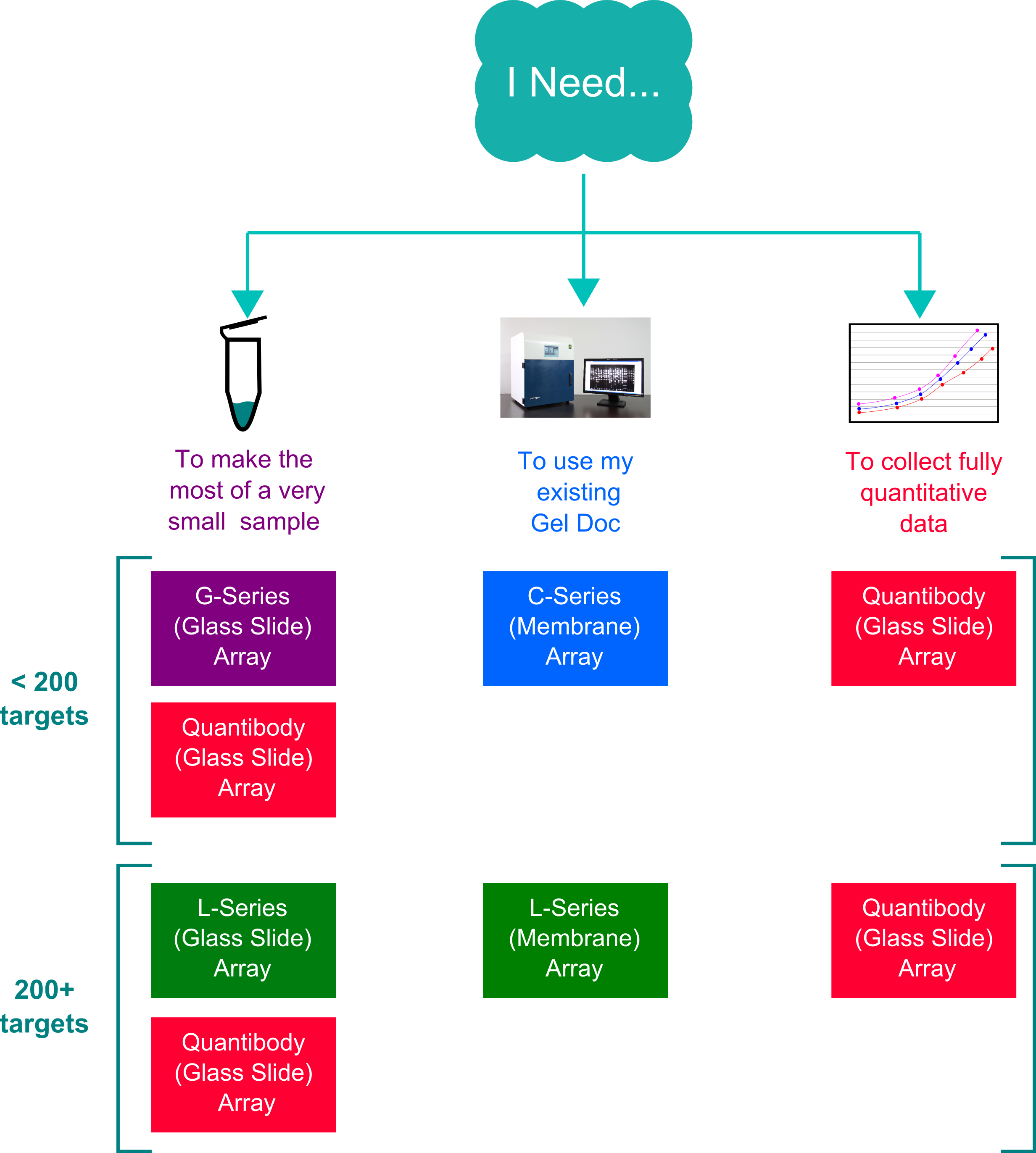 Antibody arrays available for purchase at antibodies-online
Interested in a custom array? Want to learn more about antibody array technology?
Contact our scientific support specialists:
support@antibodies-online.com