Discover our Top-Seller LPS ELISA kit
Lipopolysaccharide (LPS) is an integral, heat stable part of the outer membrane of gram-negative bacteria. As such it is ubiquitous in the environment and also present in many reagents used in the life sciences. LPS's synonym, endotoxin, hints at immunologic stimulant's ability to induce proinflammatory cytokines in vivo leading to severe potentially lethal reactions.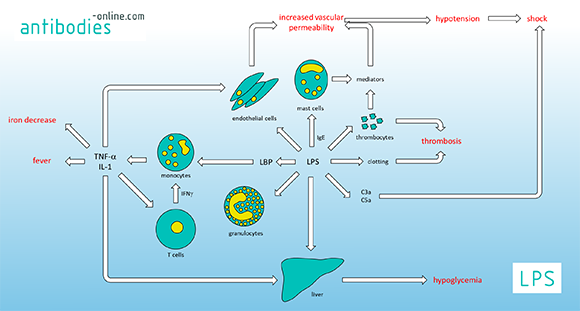 A reliable LPS screening of materials that come into contact with whole organisms or cultured cells is therefore essential. Traditionally, the Limulus amoebocyte lysate (LAL) assay has been used for this purpose. The major shortcoming of this method - besides the use of blood from an endangered population of horseshoe crabs - is the sensitivity of the assay to possible unspecific reactions to other components of the heterogeneous samples.
Our bestseller - LPS ELISA Kit ABIN6574100
Our LPS ELISA kit ABIN6574100 has been proven in numerous publications to reliably measure LPS content in a wide variety of samples such as cell culture supernatant, cell lysate, plasma, serum, tissue homogenate. To see more information about the kit and references, visit the product detail page.
Selected References for ABIN6574100
Feng, Wang, Zhang, Gao, Tao, Ge, Zhu, Bi: "Modulation of gut microbiota contributes to curcumin-mediated attenuation of hepatic steatosis in rats." in: Biochimica et biophysica acta, Vol. 1861, Issue 7, pp. 1801-1812, 2017
Rosas-Villegas, Sánchez-Tapia, Avila-Nava, Ramírez, Tovar, Torres: "Differential Effect of Sucrose and Fructose in Combination with a High Fat Diet on Intestinal Microbiota and Kidney Oxidative Stress." in: Nutrients, Vol. 9, Issue 4, 2017
Sánchez-Tapia, Aguilar-López, Pérez-Cruz, Pichardo-Ontiveros, Wang, Donovan, Tovar, Torres: "Nopal (Opuntia ficus indica) protects from metabolic endotoxemia by modifying gut microbiota in obese rats fed high fat/sucrose diet." in: Scientific reports, Vol. 7, Issue 1, pp. 4716, 2017
Hartmann, Seebauer, Mazagova, Horvath, Wang, Llorente, Varki, Brandl, Ho, Schnabl: "Deficiency of intestinal mucin-2 protects mice from diet-induced fatty liver disease and obesity." in: American journal of physiology. Gastrointestinal and liver physiology, Vol. 310, Issue 5, pp. G310-22, 2016
Wosiewicz, Żorniak, Hartleb, Barański, Hartleb, Onyszczuk, Pilch-Kowalczyk, Kyrcz-Krzemień: "Portal vein thrombosis in cirrhosis is not associated with intestinal barrier disruption or increased platelet aggregability." in: Clinics and research in hepatology and gastroenterology, 2016
Gao, Wen, Tong, Wang, Yang, Tang, Yan, Tai, Ye, Liu, Huang, Tang, Yang, Tang: "Inhibition of cyclooxygenase-2 alleviates liver cirrhosis via improvement of the dysfunctional gut-liver axis in rats." in: American journal of physiology. Gastrointestinal and liver physiology, Vol. 310, Issue 11, pp. G962-72, 2016