"The young company antibodies-online GmbH from Aachen provides hospitals with antibodies." - Portrait in the German newspaper Frankfurter Allgemeine Zeitung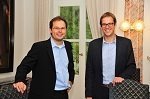 The vial with the clear liquid, which Andreas Kessell has taken from the fridge, is several hundred dollars worth. Bedded on dry ice it goes on a journey to one of the 2000 customers from antibodies-online GmbH. The dealer from Aachen provides research institutes, university hospitals and pharmaceutical companies in 53 countries with antibodies. Scientists use them for development of therapies against cancer or rheumatism, but also for investigation of Alzheimer's disease. With help of antibodies proteins can be identified or blocked or their absence can be proven.
"The true challenge for scientists is to find that antibody that fits their experiment best", states 37-year old Kessell, co-founder and CEO from antibodies-online. "Imagine somebody standing at his front door who has to find the fitting one among one million of keys." The market lacks transparency and product descriptions are very heterogeneous. With their internet platform antibodies-online the young company intends to facilitate the search for the right antibody.
In the attic office of Rahe Castle at Aachen-Laurensberg a young team of sixty biologists, software developers, mathematicians and online marketing professionals standardize product descriptions, incorporate test reports and develop special search functions. Similar to other online dealers, it is important to place their own products at the top in search engine results.
On the internet market place, which was founded in 2006 as a spin-off from RWTH Aachen University, approximately 800,000 antibodies and related products from 150 providers are available. Besides well-established manufacturers such as Becton Dickinson from the United States there are also individual scientists and research groups who offer their self-developed antibodies. They are produced by injecting rabbits or mice with certain antigens. As a result, antibodies are developed, which are then extracted from the animals' blood.
During the years, antibodies-online has made its mark, says Hiddemann: " More and more, we are noticed by the global players." They number Harvard University, the renowned Massachusetts Institute of Technology (MIT), Berlin Charité as well as the pharmaceutical companies Bayer, Pfizer and Novartis among their customers. The substances are shipped from Aachen headquarters or from the distribution center at Atlanta, United States; partly products are delivered directly from manufacturers to customers. Any clearing formalities, which may be pretty complicated sometimes, are dealt with, states Kessell. Most orders are from the United States, followed by European orders. But also from Chinese universities the number of orders increases. Therefore, a branch was established at Shanghai last year.
In contrast to their competitors – for example the much larger distributors Abcam (Great Britain) and Santa Cruz Biotechnology (United States) as well as the German dealers Biomol and Biozol the team from Aachen intends to score with an extraordinary wide range of products, broad geographic reach and the provision of numerous test reports. Concerning their financial figures, both directors remain rather button-lipped. In 2014 the company result would be balanced after a deficit in the year before – this is everything that could be wormed out of them.
Both graduates of business management met during their dissertation at RWTH Aachen University. After his studies at WHU Kessell had worked for the software provider Net AG, Hiddemann joined McKinsey as consultant for IT projects after completing his degree at Bayreuth University. At RWTH they made contact with Peter Mertens. The senior physician had developed antibodies for years and was interested in selling them. From that encounter evolved the idea to develop a platform for distribution. The team was joined by business studies Professor Malte Brettel and Florian Heinemann, a former fellow student of Kessell at WHU. Today, Heinemann works as CEO at the Berlin-based spin-off factory Project A Ventures. Before, he was involved in the development of Zalando when he worked for Rocket Internet, the internet incubator owned by the Samwer brothers. The five of them – Kessell, Hiddemann, Mertens, Brettel and Heinemann – launched antibodies-online in October 2006. Several business angels – among them Oliver Samwer – contributed money. In 2008, holding company S-UBG – several saving banks from the Aachen region are behind it – joined the project. During a second round financing in 2012 S-UBG was in on it again, together with KfW, the Reconstruction Loan Corporation. In the meantime, the five founders possess slightly more than half of shares. Directors Kessell and Hiddemann, who own together 35%, still see huge opportunity for growth for their business. "This market is so exciting, we have loads of ideas what to do next."