BMC Award
Ellen Heitzer and Michael Speicher win the 8th BioMed Central Research Award, supported by antibodies-online.com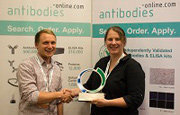 The winners of the 8th Annual Research Awards were revealed on May 28, 2014 at the "Metabolism, Diet and Disease: Cancer and metabolism conference at the Georgetown University Hotel and conference center, Washington DC., USA. The winners of the prestigious BioMed Central Research Award, worth 5,000 pounds and supported by antibodies-online.com were Dr. Ellen Heitzer and Prof. Dr.med.univ. Michael Speicher from the Medical University of Graz, Austria, and their fellow researchers.
The researchers received the award for their article "Tumor-associated copy number changes in the circulation of patients with prostate cancer identified through whole-genome sequencing ", published in Genome Medicine.
Heitzer and Speicher's research focuses on cancer; specifically the hunt for mutations in tumor genomes. Accolades came for the improvements they made to methods involving sequencing DNA from easily accessible fluids; the 'liquid-biopsy approach' rather than taking a tumor biopsy. Using a benchtop high-throughput sequencing instrument the team were able to examine the DNA circulating in the plasma of cancer patients more rapidly and cheaply than previous studies without compromising accuracy. Their research is particularly focused on prostate cancer, the sixth leading cause of cancer-related death in men worldwide.
Dr. Andreas Kessell, co-founder of antibodies-online.com, congratulated the winners via videomessage from the headquarter in Aachen, Germany: "At antibodies-online.com we help scientists to find and order highly validated products for their cutting edge research projects. Chosen from a shortlist of ten category award winners, the overall research award honors outstanding research published by BioMed Central in 2013. We are excited to sponsor the BioMed Central Annual Research Award for the second time, as it brings an opportunity to advance research in the life sciences. antibodies-online.com thanks all participants in advancing research for a better life and compliments this year's winners."
Johannes Fleischer of antibodies-online then presented the award to Dr. Ellen Heitzer, who said: "It's a great honor to receive this award, because I think that non-invasive cancer diagnosis is truly a growing field. It's important to have techniques to get genomic follow up data, especially when the area of personalised medicine is growing, and becoming so important for cancer patients themselves. Of course, I want to thank my colleagues at the Institute of Human Genetics and also the clinicians and patients at the department of urology as this is where we get our samples, which is so crucial to establishing these techniques."
Deborah Kahn, Executive Vice President Publishing at BioMed Central, says: "Once again our judges were fantastic and deserve thanks for the time and energy they have devoted to the Research Awards. I want to congratulate the winners on their excellent research and look forward to seeing its future progression."