GFP-Traps®, Chromobodies®, boosters and more!
What is a nanobody?
Nanobodies are tiny, recombinantly produced antigen binding VHH fragments, derived from the Alpaca heavy chain IgG antibody (HCAb).
Pictured Bottom Row: The VHH domain represents the absolute smallest antibody fragment necessary to specifically bind an antigen with exceptionally high affinity.
When compared to traditional monoclonal or polyclonal antibodies, nanobodies are:
Smaller
More consistent
Higher affinity
Easier to use
Nanobodies are offered in a variety of formats, including Nano-Traps, Nano-Boosters, and Chromobodies® .
ChromoTek nanobodies have many superior performance characteristics:
How can I use a nanobody?
In short, nearly any way you please!
Nanobodies come in a variety of formats. They are raised against a fairly diverse range of antigens, and are thus highly versatile tools, capable of being employed in a variety of different situations.
The most common uses for a nanobody are experiments that you are likely already familiar with, like immunoprecipitation, or fluorescence microscopy.
There are also a handful of applications where use of a nanobody is feasible, but use of a conventional antibody would be impractical or impossible.
ChromoTek nanobodies are highly versatile reagents:
What is a Nano-Trap?
Nano-Traps are nanobodies that have been conjugated to agarose or magnetic beads to facilitate cleaner, faster, simpler immunoprecipitations.
Nano-Traps are available in a variety of formats, and target a variety of common tags, including Green Fluorescent Protein (GFP), Red Fluorescent protein (RFP), Myc, GST, & MBP.
Nano-Traps are also available for DNA methyltransferase (Dnmt-1), p53, and PARP-1 for immunoprecipitation of untagged, endogenously expressed protein
Nano-Traps allow you to perform IP experiments with exceptionally high yield, and without contamination from antibody heavy or light chains.
In fact, the GFP-Trap® (pictured above) has already been cited in more than 400 peer reviewed publications. Try one today, and find out why they are so popular!
Nano-Traps significantly improve conventional IP protocols.
Faster (roughly half the time required for an antibody IP)
Cleaner (no heavy or light chain antibody contamination)
More consistent (recombinant reagents for the same interaction every time)
Higher yield (picomolar to nanomolar affinity constants for GFP and RFP-traps®)
In order to facilitate the most versatility in IP methodology, all nano-traps come conjugated to agarose beads, ferromagnetic beads, or agarose/magnetic beads.
Researchers in the US and Western Europe get next-business day delivery on GFP and RFP-traps purchased at antibodies-online
Nano-Traps available at antibodies-online:
What is a Nano-Booster?
Nano-Boosters use the power of the nanobody to enhance, modulate, or reactivate weak fluorescent signal from a fluorescent protein.
A Nano-Booster is composed of a nanobody, targeting GFP or RFP, and conjugated to an ultra-bright ATTO dye.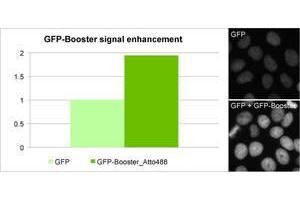 The natural fluorescent properties of GFP are enhanced by the supebright ATTO-488 dye coupled to ABIN509419 the GFP-Booster®.
ATTO dyes were specifically chosen for use with Nano-Booster due to their exceptionally bright signal, best-in-class photostability, and narrow Stokes-Shift.
Next-generation imaging techniques like super-resolution microscopy require bright, photostable fluorescent probes.
Nano-Boosters can provide the "signal-boost" required to make fluorescent proteins like GFP bright and stable for super resolution microscopy.
antibodies-online offers the following Nano-Boosters:
What is a Chromobody®?
Chromobodies® are novel tools for live-cell intracellular fluorescent labeling.
Chromobodies® are fusion proteins that contain both a nanobody targeting your protein of interest, and a bright, photostable fluorescent protein.
Because nanobodies are produced from recombinant DNA, you can generate Chromobodies® directly, right inside the cell you want to label. No fussing with messy, frustrating, or time consuming fixation or labeling protocols!
Simply start with the appropriate Chromobody® plasmid, transfect it into a compatible cell line, and utilize persistent, intracellular immunolabeling in live cells!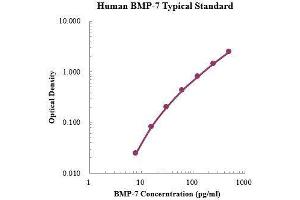 Chromobodies® use your own cells to produce the nanobodies that will label your protein of interest.
No fixation or additional staining steps are necessary. Finally, live-cell intracellular immunolabeling is a viable strategy!
Chromobody® plasmids are available for the following targets: