SARS-CoV-2 Spike Proteins
SARS-CoV-2 can hijack human host cells in two ways, either via endosomes or via plasma membrane fusion. In both ways, spike (S) glycoproteins of SARS-CoV-2 mediate attachment to the membrane of a host cell and engage angiotensin-converting enzyme 2 (ACE2) as the entry receptor.
Spike proteins are part of the structural SARS-COV-2 proteins and are built into the virus envelope. The SARS-CoV-2 spike (S) protein is a large type I transmembrane protein composed of two subunits, S1 and S2. The S1 subunit contains a receptor-binding domain (RBD) responsible for binding to the host cell receptor ACE2. The S2 subunit mediates fusion between the viral and host cell membranes.
antibodies-online supplies you with a wide range of quality SARS-CoV-2 Spike protein products. Discover our product portfolio below. NEW: We also offer a variety of Spike S1 protein mutants, as well as the SARS-CoV-2 S protein D614G mutant in a trimeric form (ABIN6953171), facilitating researchers for more detailed virological and immunological studies on the biological effect of the mutation.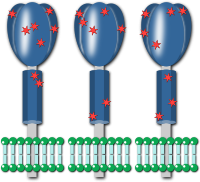 SARS-CoV-2 S Mutation Proteins
We support your research with reliable SARS-CoV-2 mutation proteins. B.1.1.7 / P.1 / B.1.351 / S Protein wild type. 400+ labs in diagnostics, pharma, academia have used our SARS-CoV-2 research tools.
Explore our variety of mutation proteins
Recommended next Filters:
You are here:
SARS-CoV-2 Spike Proteins