Inhibitor Screening: New ACROBiosystems ELISA pair available for identifying PD-1 pathway inhibitors
Now it's easier than ever to screen for PD-1 pathway inhibitors
The ACROBiosystems PD-1 inhibitor assay at antibodies online is a simple and efficient way to identify screen for PD-1 pathway inhibitors.
Activation of PD-1 by its ligand PD-L1 suppresses autoimmunity by preventing inappropriate activation of T-cells. Tumors frequently subvert this mechanism to avoid immune surveillance, and PD-1 pathway inhibitors have shown some promise as anti-cancer therapeutic agents.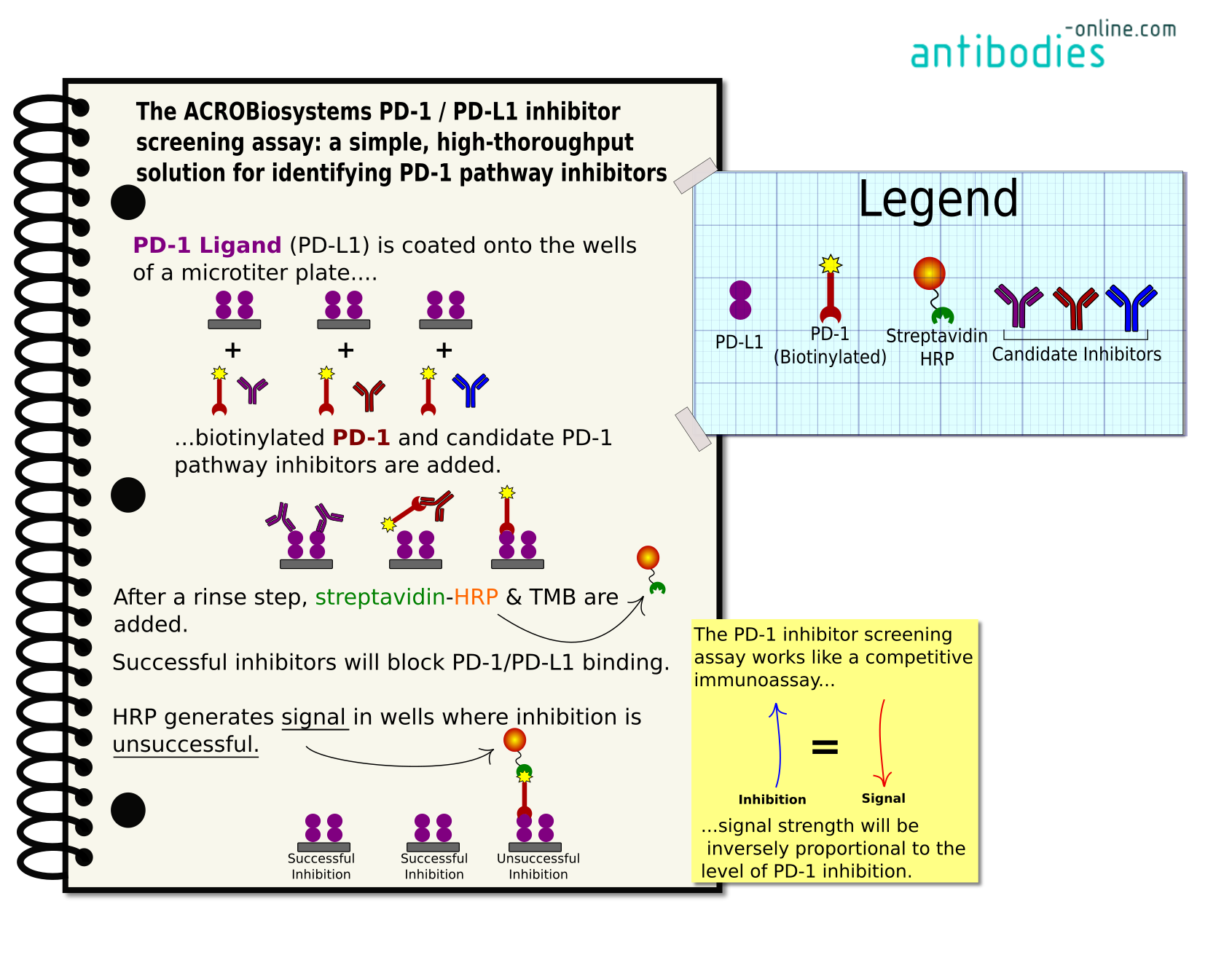 The ACROBiosystems PD-1/PD-L1 screening assay kit is:
Fast & Efficient: Pre-labeled components are included in the kit. Following plate coating, the PD-1 inhibitor screening assay can be completed in just a few hours.
Reliable & Authentic: Recombinant PD-1 and PD-L1 in the screening pair, are expressed in human (HEK293) cells to ensure accurate folding and post-translational modification.
Simple: The PD-1 inhibitor screening assay is a simple sandwich-format functional ELISA, completed in 4 easy steps. Labeled, recombinant ligand/receptor pair, and a PD-1 neutralizing control antibody are included in the assay kit.
Reproducible: Labeled recombinant PD-1 and PD-L1 are produced to stringent quality control standards, with minimal lot-to-lot variation for long term reproducibility and consistency in large scale experiments.
Learn more about the new ACRObiosystems PD-L1 Inhibitor Screening ELISA Assay Pair. The kit is available in sizes of 96 tests and 480 tests.
We offer a
wide range
of
high-quality ELISA kits
for
various targets and sample types